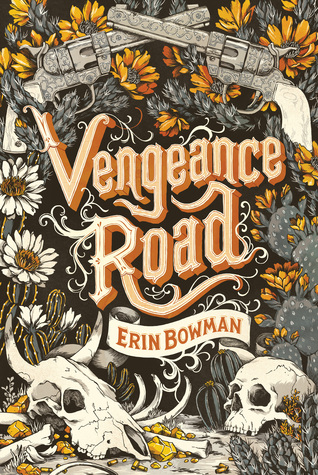 "That sounds real nice, boy," he says. "Now for the love of God, lower that damn pistol."
"All right," I says.
And I do.
Right after I shoot him through the skull."
Title: Vengeance Road
Author: Erin Bowman
Series: Standalone
Publication: September 1st 2015 by HMH Books for Young Readers
Pages: 336
Source: Publisher at ALA
Summary from Goodreads:
When Kate Thompson's father is killed by the notorious Rose Riders for a mysterious journal that reveals the secret location of a gold mine, the eighteen-year-old disguises herself as a boy and takes to the gritty plains looking for answers and justice. What she finds are devious strangers, dust storms, and a pair of brothers who refuse to quit riding in her shadow. But as Kate gets closer to the secrets about her family, she gets closer to the truth about herself and must decide if there's room for love in a heart so full of hate.
In the spirit of True Grit, the cutthroat days of the Wild West come to life for a new generation
My Thoughts:
This book is one I've been waiting for since I first heard about it. When I went to ALA Annual this year I was on a mission to get this book, and let me tell you, boy am I glad I got my hands on a copy.
Vengeance Road is the first Western book I have ever read. Sure, I have seen True Grit and a bunch of other movies and television shows, but I have never sat down and actually read a Western till now. And now that I have, I can't even think of how to explain how glad I am that I did. Not only is this the first Western book I have read, I think it is one of the first Young Adult books of its kind – though, Walk On Earth a Stranger is coming out during the same month. Vengeance Road was raw, that is the best way to describe it. It was real, there was no sugar-coating or cutting corners – it was raw, real, and absolutely terrifying in ways I never would have thought of before reading this book.
From the very start Vengeance Road encapsulated what a wonderful writer Erin Bowman is. This book is filled to the brim with hard-hitting issues. There is murder, slavery, the fanatic fever of the gold rush, all sorts of things I can't even begin to label. Vengeance Road tore my heart into little itty-bitty pieces while simultaneously making me laugh, smile, rip my hair out, and scream.
We start off with our protagonist, Kate, returning home to find a group men hanging her father from a tree while burning down the home she grew up in. Just take a moment and imagine that. Imagine walking over the hill, that last precipice before you can see your house on the horizon, and seeing your home burning to ashes while your father is being murdered right before your eyes and there isn't anything you can do about it. Yea, this book will definitely tear your heart and sanity to shreds. Anyway, back to the point here. After seeing her father die and her home destroyed, Kate is filled with the need for revenge. From this point on, she pretends to be a boy named Nate and goes off on this crazy quest for revenge while trying to track the group that murdered her father, The Rose Riders. Along the way, she run into the two sons of an old family friend, and if it wasn't already interesting enough for you – you can sure as hell bet it picks up as soon as they come into the mix.
After hearing that Erin Bowman was writing a Western, I couldn't help but to be excited. I absolutely loved the Taken Trilogy and Vengeance Road is no exception to how much I love her work. I do have to tell you the truth here, though, I was shocked by the graphic deaths. I have never seen a Young Adult book describe a dead body with such disturbing clarity in my life. Back to my original train of thought, part of me felt like this was going to be a westernized version of She's the Man. The idea that a girl was going to be pretending to be a boy was a big part of that, I couldn't help but to expect something light and fluffy – so imagine my surprise when I opened the pages and, bam, people are dead, the protagonist is a badass, and there is blood everywhere.
Bowman filled this book to the brim with bloody revenge, shoot outs in pubs, saloon girls, and cowboys who shoot first and ask questions later. She even writes in a different dialect, even all of Kate's inner monologue. It can get sort of confusing at times, but it worked perfectly with the setting so I was able to deal with it. It would be hard to argue against how realistic the setting of Vengeance Road is, everything was so graphic and in your face that it felt as if the characters were seconds from leaping off the page and pointing a gun at your head if you sneezed too loudly while reading. Get the picture?
As for the characters themselves, they were just as real and vibrant as the setting.Kate might have been constrained by what a woman should have acted like during that time, but she was still insanely independent. She was tough, she was a firecracker, she was a lady, and she was extremely likable. At the same time, though, she was so prickly and ornery that I thought she was a damn cactus along the side of the road. She was a living and breathing girl who felt forced into this path of revenge in order to make things right for her father and what was done to him. She takes no one's shit, and I find that extremely admirable – especially for a female in the old west. I guess, if I had to simplify this, Kate is what I picture the child of Rose Hathaway and Dimitri Belikov to be like if they had a child back eighteen hundreds. Next we have Jessie, our love interest (sort of). Jessie is the eldest of the two brothers that join in on Kate's wild adventure. He is loyal, considerate, kind-hearted (for the most part), and he doesn't really have a temper which was really refreshing when paired with Kate's uncontrollable one. Will, Jessie's younger brother, was completely adorable. He was hilarious, I really loved his dry sense of humor when they were on the road. I have to say this, I have no idea how old the characters are. I think Jessie might be in his twenties and that Will might be closer to eighteen or nineteen, I have no idea. For that reason, among many others, I thought Kate was going to end up with Will – not Jessie. I just loved all of them – is that so bad?
Vengeance Road is a western novel woven through with small threads of mystery, romance, and pure and utter heartbreak – it is a must read. The plot was exciting, suspenseful, and no dull moments. There are numerous twists and turns that I never saw coming. Vengeance Road is a truly engrossing read that shows some vivid history of America and how the greed and lust for gold created beasts of men. It was one of my most anticipated reads of this year and it surpassed all expectations. If there's any book that you read this September, let it be this one, it will not disappoint.
"When I were first learning to shoot a rifle, Pa told me that nearly every battle people face is in their heads. If you think you can't do something, you won't. If you believe you can, it's only a matter of time before you will."