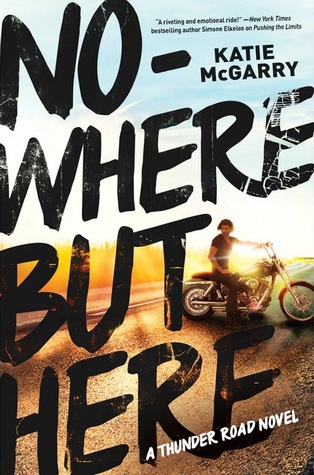 "Running is still running. It doesn't matter if it's a physical move from one place to another or if it's to within yourself."
Title: Nowhere But Here
Author: Katie McGarry
Series: Thunderoad #1
Publication: May 26, 2015 by Harlequin Teen
Pages: 496
Source: Books for Trade
Summary:
Seventeen-year-old Emily likes her life the way it is: doting parents, good friends, good school in a safe neighborhood. Sure, she's curious about her biological father—the one who chose life in a motorcycle club, the Reign of Terror, over being a parent—but that doesn't mean she wants to be a part of his world. But when a reluctant visit turns to an extended summer vacation among relatives she never knew she had, one thing becomes clear: nothing is what it seems. Not the club, not her secret-keeping father and not Oz, a guy with suck-me-in blue eyes who can help her understand them both.
Oz wants one thing: to join the Reign of Terror. They're the good guys. They protect people. They're…family. And while Emily—the gorgeous and sheltered daughter of the club's most respected member—is in town, he's gonna prove it to her. So when her father asks him to keep her safe from a rival club with a score to settle, Oz knows it's his shot at his dream. What he doesn't count on is that Emily just might turn that dream upside down.
No one wants them to be together. But sometimes the right person is the one you least expect, and the road you fear the most is the one that leads you home.
My Thoughts:
I went into this book expecting it to be a mix of Sons of Anarchy and Katie McGarry's other books like Pushing the Limits – and I can honestly tell you that she blew my expectations out of the water. Yes, it still reminded me of Sons of Anarchy and now I have a huge urge to binge watch it all on Netflix – but it was so much more than that, too.
I have never read a book that involves a motorcycle gang in my life. I have seen them on television, seen them in adult erotica novels, and seen them in person – but never as the central focus of a young adult book. I have to say, even if Katie McGarry wasn't the author, I would have been extremely intrigued by it whole idea of it. Now, that being said, I love Katie McGarry. I remember when I first discovered her, sadly quite a bit behind everyone else. I found Pushing the Limits at my online library after I moved into my dorm last year, and I have loved her and her work ever since. McGarry, as illustrated in her other books, has this amazing talent to take adult themes and ideas and transform them into something that isn't stereotypical and is easy to understand and relate with. Every single time she does this, it never fails to be absolutely breathtaking – and Nowhere But Here is no exception to her magic. I also have to say that I am extremely impressed with the knowledge McGarry had of the MC lifestyle. There is a certain intricacy to the club way of life, from their Church to the way the members act around each other and the hierarchy system within.
Another thing McGarry has always been able to do, besides make difficult issues and situations easy to relate to, is create wonderfully believable characters. She also makes the relationships between her characters so real that it was almost impossible not to love them. It all started with Echo and Noah, and I can tell you that Emily and Oz did not disappoint. McGarry's characters have this way of burrowing deep into your heart, sinking in their claws, and never letting go. I tell you, I will never forget Noah going to a school dance just for Echo – it was swoonworthy. All of McGarry's characters hold this same power, though, not just the main protagonists. The secondary characters were easy to love and care for despite their faults – and that is the beauty behind Katie's writing. While you might not be going through what the characters are or have no previous experience with it, you still can't help but to feel for them, understand them, and ultimately connect with them. They are always present in your thoughts.
The relationship, as it usually is with the two protagonists in a Katie McGarry novel, is torturous. They fight each other, they do everything in their power to avoid getting together though we are all cheering for them, and in the end it is such a bittersweet coming together that it makes you crave more. I adored their friendship, I had some seriously naughty thoughts due to their impeccable sexual tension, I couldn't not root for them. What McGarry does, how she makes us feel for these characters, is nothing sort of talent.
I really liked the emphasis of family in this novel. A lot of her others focus on family too, but for reasons that were more on the bad side. Here, though, family is a critically part to everything that is going on. Family is part of the motorcycle club, family is what brings her to Florida in the first place, family drives all of this – even Emily and Oz's resistance to each other at first. I love seeing family as a focal point of a story for good reasons rather than the normal trope of a dysfunctional family.
I can't even think of a problem with this book, usually – even with books I love – I find something that bothers me, and it's usually something stupid and minuscule. But with this, there was nothing to pick apart. I loved every second of it and nothing can ever change that. This is one of those books that will always remain on my shelves, and it makes me exceptionally happy to know that I actually own the book instead of having to return it to the library like I was originally planning – just as I had to do for all of her other books.
When reading Nowhere But Here, I laughed, I cried, I panicked, I was completely swept up into the chaos of The Reign of Terror and I loved every second of it. I am going to be waiting on the next book on the edge of my seat, salivating and foaming at the mouth. I need more, I need it so badly it hurts. Well done Katie McGarry, you've gone and broken my heart again and I can't even find the words to be angry about it.