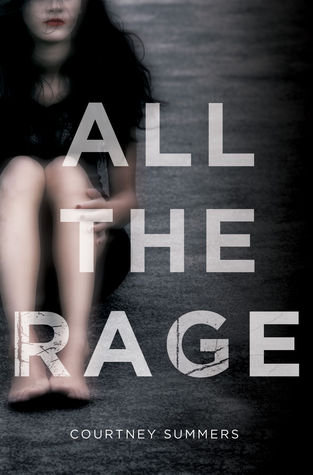 "But just because something starts out sweet doesn't mean it won't push itself so far past anything you could call sweet anymore. And if it all starts like this, how do you see what's coming?"
Title: All The Rage
Author: Courtney Stevens
Series: Standalone
Publication: April 14, 2015 by St. Martin's Griffin
Pages: 321
Source: Bookshelf
Summary: 
The sheriff's son, Kellan Turner, is not the golden boy everyone thinks he is, and Romy Grey knows that for a fact. Because no one wants to believe a girl from the wrong side of town, the truth about him has cost her everything—friends, family, and her community. Branded a liar and bullied relentlessly by a group of kids she used to hang out with, Romy's only refuge is the diner where she works outside of town. No one knows her name or her past there; she can finally be anonymous. But when a girl with ties to both Romy and Kellan goes missing after a party, and news of him assaulting another girl in a town close by gets out, Romy must decide whether she wants to fight or carry the burden of knowing more girls could get hurt if she doesn't speak up. Nobody believed her the first time—and they certainly won't now — but the cost of her silence might be more than she can bear. 
With a shocking conclusion and writing that will absolutely knock you out,All the Rage examines the shame and silence inflicted upon young women after an act of sexual violence, forcing us to ask ourselves: In a culture that refuses to protect its young girls, how can they survive?
My Thoughts:
This is one of those books. You know the books that change you? The ones that are like reading your own thoughts written on a page? How could someone else, someone who has never met you, know exactly what you think and how to write it down? This is one of those books. One of those books that make you cry, make you scream, make you break everything in your path and yell at everyone who gets in your way. This is one of those books that makes you feel. It makes you angry, it makes you desperate, it makes you want to curl into a ball and hide from the world. This is one of those books.
All The Rage is brutal in all senses of the word. There is no sugar coating, no detail we don't know, no fluff. This book is raw, this book is real. Everything is out there in your face and I didn't know what to do about it. There were moments when I had to put the book down and walk away though all I wanted to do was see what happened next. There were moments when I wanted to rip out the pages, when I wanted to burn the entire thing just to make it all okay again. This book will destroy you, that is one thing I am sure of after reading this.  Courtney Summers doesn't shy away from anything, there is blood, murder, there is a graphic retelling of a sexual assault. She doesn't shy away from the details, nor should we.
The subject matter of this book is dark, there is no other way to put it. Rape is nasty, bullying is nasty, abuse is nasty. This book is one giant cluster fuck of hate. People hate Romy, our protagonist, for speaking up. Romy hates everyone for not believing in her. There is a lot of hate, and some of it is rightfully deserved. All The Rage is not a story to think lightly about, this is not something you want to read if you don't want to feel something other than happiness. This is the kind of book you read that makes you think, it will get under your skin and you will never be able to rid yourself of it. This is the kind of book where you can't connect with the character unless you know what she is going through. She is broken, she feels dirty, she feels used, she feels useless. She feels shattered – how else could I put it? She doesn't even feel worthy of living any more, which, sadly, is how a lot of rape victims feel. She doesn't have an escape to run off to, she is trapped in the scene of her abuse and unable to escape it except for working at a diner out of town – and even that gets violated. Romy harbors so much fear, so much mistrust, that your heart will inevitably break. I mean it, this book will tear you to pieces. Just as it should.
One thing I really liked about this book, well, I liked everything but this is one thing I want to point out. I really liked how this wasn't just about Romy, yet it was all about her at the same time. During this book, a girl goes missing. It provided a really interesting contrast to everything else going on in the story. Seeing Romy step up, join the crowd of her abusers just to try and find this one girl, really made me feel for her. She didn't have to join the search group. She didn't have to walk up to the brother of the boy who raped her and sign up, she didn't have to walk with the people who tormented her on a daily basis – yet she did it any way. If that isn't strength and selflessness, I don't know what is.
Another thing I really loved was Romy's make up routine. Every morning, she would wake up and repaint her nails and lips the same vibrant red. She describes make up as being her armor, the only way she could face the day, and that is something I agree with wholeheartedly. Make up is armor, it is a way to hide your face when you don't want anyone to see who you are underneath. Red is Romy's armor, and that was something they couldn't take away from her.
I ordered All The Rage when it came out but I had it shipped home instead of to campus, do you know why? Because as soon as I got home, I devoured this book. I sat down, I read it, and I loved it. If I had gotten this book while still at school, nothing would have gotten done. This book destroyed me, this book made me sit down in a corner and cry. There was no way I could have done homework, finals, and still read this without becoming even more of a mess than I already am. I am glad this book tore me to pieces, glad that it made me think. If I had to pick books that are going to become classics, this would be one of them, hands down.
Some books demand to be read, and this happens to be one of them.