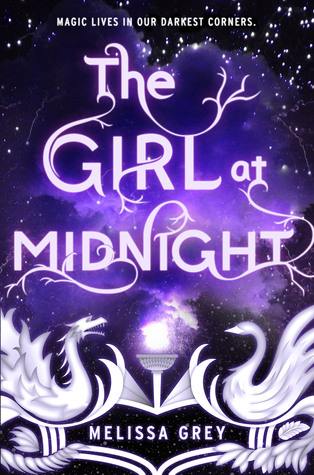 "…I like to be around all these books. They're very good at making you forget your troubles. It's like having a million friends, wrapped in paper and scrawled in ink"
Title: The Girl at Midnight
Author: Melissa Grey
Series: The Girl at Midnight #1
Publication: April 28, 2015 by Delacorte Press
Pages: 357
Source: Netgalley
Summary:
Beneath the streets of New York City live the Avicen, an ancient race of people with feathers for hair and magic running through their veins. Age-old enchantments keep them hidden from humans. All but one. Echo is a runaway pickpocket who survives by selling stolen treasures on the black market, and the Avicen are the only family she's ever known.
Echo is clever and daring, and at times she can be brash, but above all else she's fiercely loyal. So when a centuries-old war crests on the borders of her home, she decides it's time to act.
Legend has it that there is a way to end the conflict once and for all: find the Firebird, a mythical entity believed to possess power the likes of which the world has never seen. It will be no easy task, though if life as a thief has taught Echo anything, it's how to hunt down what she wants . . . and how to take it.
But some jobs aren't as straightforward as they seem. And this one might just set the world on fire.
My Thoughts:
Okay, I'll be honest. I was sort of wary when I started this book. I'd glanced at other reviews from early readers, and while a lot of them were good, there were also a fair amount that said the book bordered on plagiarism. In the synopsis, it describes this book as being a good read for fans of Daughter of Smoke and Bone and The Mortal Instruments, and I agree – but I do not agree with those who say this book is far too similar to the ones listed. When I read this, I found the story to be wholly original. For one thing, this book deals with two separate races: the Avicen and the Drakharin. The main character, Echo, is a human – but she is the only human included in this story.
To start, I want to explain the two races. The Girl at Midnight begins with Echo living with the Avicen, they are basically like bird people. They have feathers for hair and eyes that generally match their plumage. As an example, the character Ivy has pure white feathers, pale skin, and sincere black eyes – she is a dove. The Avicen government is a council of Elders, and the two main sources of power within the council are Altair and The Ala. Now, the Drakharin are dragons – figuratively. They have translucent, shimmery scales along their cheekbones and spines. Their eyes are usually different jewel tones, Caius has emerald hues and his sister's are described as blood-red rubies. They run on a basic monarchy system, everyone follows the rule of the Dragon Prince. The one difference between their rule and the monarchy is that the Dragon Prince can be voted for by the people, but also usurped by a strong challenger.
This book is one of the first books that I have read that is fully immersed in fantasy. Yes, it takes place in areas of New York, Japan, and Germany – but the world of the characters is complete make believe. Even Echo, the resident human, lives in a home built and protected with magic. I loved every second of it, though. The story was fascinating, a young girl being taken in by an ancient race and raised mostly as one of them. She was a thief, and she puts it to great use by collecting objects of power to trade and stealing large amounts of candy to quell the children of Avicen's mighty candy cravings. Echo is then given a task by The Ala, to go and hunt down this mystical and make believe Firebird. From that point on, the story takes off on a wild journey that doesn't even end on the last page. It does not end on a cliffhanger, per sea, but it is clearly not a standalone book.
One thing that I was confused with was the point of view in the book. It started right off the bat switching between characters from the prologue to chapter one, but it then established Echo and Caius as the two main characters. Later, though, there were two more thrown in that left me confused. I was so used to Echo and Caius that when it suddenly switched the Dorian I had to go back and reread half a chapter before I realized what was going on. I got used to it, though, and eventually began to enjoy the switching because it allowed for different angles of the story.
Overall, this is a wonderful fantasy novel. I would recommend this book for any fans of Narnia, A Song of Ice and Fire, or Graceling fans. As for an age limit, I would leave the book for the ages of fourteen and up. There is graphic violence and some mature themes of abuse, there is also the inklings of a boy on boy relationship (which rocks, by the way) to be wary of if that sort of thing makes you uncomfortable. The Girl at Midnight is amazing, reshaping reality to a fantastical world full of magic, fire, and colorful feathers