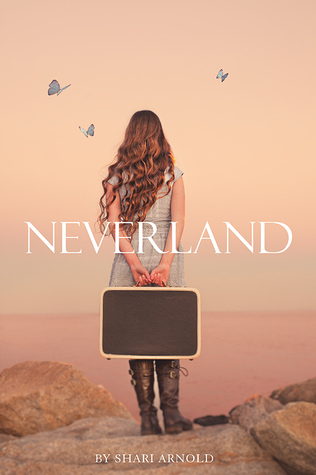 "We seek out other people to fight off the loneliness but it's like we're children playing at pretend. We are alone in everything we do, Livy. Alone but not without company."
Title: Neverland
Author: Shari Arnold
Series: Standalone
Publication: April 7, 2015 by CreateSpace
Pages: 358
Source: Netgalley
Summary: 
It's been four months since seventeen-year-old Livy Cloud lost her younger sister, but she isn't quite ready to move on with her life — not even close. She'd rather spend her time at the Seattle Children's hospital, reading to the patients and holding onto memories of the sister who was everything to her and more.
But when she meets the mysterious and illusive Meyer she is drawn into a world of adventure, a world where questions abound.
Is she ready to live life without her sister? Or more importantly, is she brave enough to love again?
In this modern reimagining of Peter Pan, will Livy lose herself to Neverland or will she find what she's been searching for?
My Thoughts: 
I love this. I can't bring myself to say anything else about it. It doesn't really help that one of my biggest obsessions since childhood is Peter Pan – and let me tell you, boy does this bring Peter Pan to the next level. I was skeptical at first, being such a big fan of the original story I couldn't help but fear how this book would play out. I was pleasantly surprised and then blown away by the whole thing, this is one book I will read over and over again.
Let me start off with pointing out the certain parallels between this story and Peter Pan, at least the ones I could catch that I could avoid spoilers with. This story starts off with the main character, Olivia (also called Livy), reading the story Peter Pan to the children in the hosptial. May I present example A, Livy tells stories to children and notices a mysterious, yet very attractive, boy/man leaning against the wall who always disappears when the stories are over. There is no Michael and John, instead they have seemingly been replaced by two children in the hosptial: Jilly and Sammy. Livy did have a sister, but she died before the story takes place.
Then there is Meyer, oh how I love Meyer. If you can't tell, Meyer is the previously mentioned "mystery boy". The first time Livy gets a real good look at him, he is watching her through a window. He is wearing a green hoodie, which she later gets to keep. His hair is a mess of auburn curls and his eyes are a deep emerald green. I knew he was the Peter Pan of the story the instant she saw him, he was too perfect not to be. He is also described as having eyes and a smile full of mischief and mystery. Meyer also loves playing games and going on "adventures" that usually involve risky maneuvers like climbing down the side of a Ferris Wheel. One big difference between this story and the original is Meyer's age. Both Meyer and Livy have been aged up, she is seventeen and he looks to be a few years older than her. I'm not complaining though, Shari Arnold took my fantasy of a young boy coming to my window to take me away to Neverland into a very attractive young man coming to my front door.
There is Captain Hook, the lost boys, and the captivating beauty that is Neverland. Only Peter and Hook make real world appearances though, and that confused me. I was sort of thrown off by the structure, but that didn't take away from my enjoyment. Part one of the book takes place is modern day Seattle, but after Livy has an accident in the hosptial she appears in Neverland. This, of course, is after she learns that Meyer can actually fly. I was just surprised by the fact that this story took Peter Pan at face value – fantasy elements and all. It did also give it's own spin. Neverland is the place children go when they die before choosing to move on, or "grow up" as it were. Meyer/Peter is their guardian, he rules Neverland and protects the children there. Hook, who in this story is named James Hale, is death. He is the one that comes for the children in the real world and also forces Meyer to follow the rules. There is still the famous rift between the two, but sadly Hale has both hands and no hook to go with his captain.
I can't write much more without giving away the entire story, and I know how much I hate spoilers. Overall, this was absolutely amazing. I would leave this book for ages fourteen and up since it deals with the heavy topic of death, as well as some mild sexual content. I loved every second of this book and I was sad when it was over. It was reliving my favorite fairy tale in an entirely new light. The ending of this book, in my opinion, was much better than the original story and the movies after. I would recommend it for anyone, especially fans of Peter Pan, but it is also a good story in its own right.