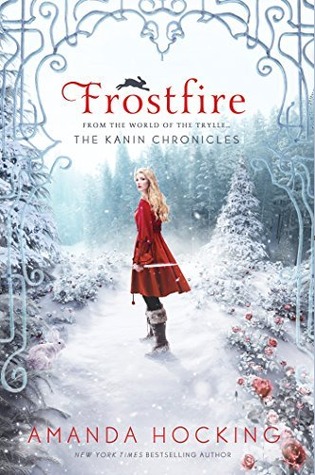 "Remember my name. Because I'm going to be the one who kills you."
Title: Frostfire
Author: Amanda Hocking
Series: The Kanin Chronicles #1
Publication: January 1st, 2015 by St. Martins Griffin
Pages: 321
Source: Goodreads First Reads
Summary:
Bryn Aven is an outcast among the Kanin, the most powerful of the troll tribes.
Set apart by her heritage and her past, Bryn is a tracker who's determined to become a respected part of her world. She has just one goal: become a member of the elite King's Guard to protect the royal family. She's not going to let anything stand in her way, not even a forbidden romance with her boss Ridley Dresden.
But all her plans for the future are put on hold when Konstantin– a fallen hero she once loved – begins kidnapping changelings. Bryn is sent in to help stop him, but will she lose her heart in the process?
My Thoughts:
As a previous fan of the Trylle series, I could honestly say that when I found out about Amanda Hocking starting a new trilogy set in the same world, I was ecstatic. I started this book with high expectations and those expectations were blown way out of the water.
From the start of the book, I could sense that there was a different tone. I don't know if it was because this time the main character was already knee deep in the world and not finding out about it half way through, or if it was simply because it was just better written than the original Trylle series. The main character, Bryn, was absolutely fantastic in my opinion. Her no nonsense, take charge attitude was refreshing and I loved the way she wasn't afraid to stand up and enforce her own ideas – even when speaking with the King and Queen. I also enjoyed Ridley, who was sort of the love interest and also her boss. He provided some much needed humor in certain situations, and it made me love him even more.
Overall, the I felt the book earned a well deserved five stars. I enjoyed it too much to give it anything less. If you're a fan of Hocking's other work, or the work of Julie Kagawa and P.C Cast, I would really recommend these books.