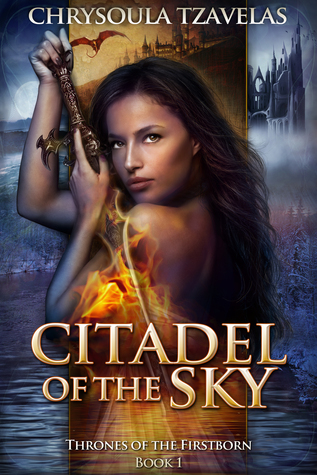 Title: Citadel of the Sky
Author: Chrysoula Tzavelas
Series: Thrones of the Firstborn #1
Publication: 2015 by Dreamfarmer Press
Pages: 382
Source: Netgalley
Summary:
Her (not very) Serene Highness Princess Tiana tries her best not to think about the dark lords ravaging her country or how the magic in her bloodline makes her family go mad. The descendant of a legendary hero, she prefers bringing the myths of old to life on the theater stage, not on the battlefield.
Then a rash of suspicious deaths strikes the Regents — trusted advisors, friends, and guides to her troubled royal family — and the Noble's Council tries to cover it all up. Tiana is determined to get to the bottom of the murders and the conspiracy, even if that means making a dangerous pact with a telepathic demon trapped in a magical sword. But he may just be the edge she needs to save the people she loves.
Cursed sword in hand, Tiana and her friends prepare to face the encroaching darkness ­— and the ultimate truth about her and her family.
My Thoughts:
Okay I hate giving bad reviews, and I don't want to think of this as a bad review – but it isn't a good one, either.
I had three main problems with this. The first one is the writing style. Not only did I find errors throughout the novel (I understand that this is an ARC), but the word choices themselves were stiff. I couldn't get into the flow of the novel because there wasn't one. The dialogue between characters was so forced that I found myself unable to get into the story at all. Another reason for this was the characters themselves. There were too many with too little of description. I couldn't picture them in my head. There was also no back story, so right out of the gate I was extremely confused. I had hoped that reading through the entire thing would help me figure it out, but it had the opposite effect. The more I read, the more confused I became due to the convoluted story.
There is a bright side, though. I think the idea is brilliant, but it just needs some work. I love how the royal family has certain powers that others don't – it turns it away from the standard monarchy that happens only through bloodline. At least in this family, there was a reason for their being in power. I think that if there was more added to the book – like the clarification of the terms, the power, and the structure of the world they live in – it could become a powerful story.